Universidade do Envelhecer can inspire government program for seniors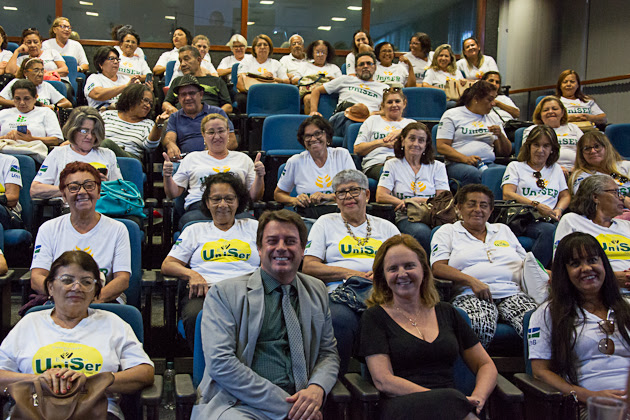 The Universidade do Envelhecer (UniSer) – an extension program created four years ago at the University of Brasília – can inspire the implementation of a federal government initiative to improve the quality of life of the elderly. Last week, Rogério Ulson, the national secretary for the Promotion and Defense of the Rights of the Elderly, visited UnB to learn about the project.
"We are checking the possibility of making agreements with municipalities, so that provide rooms for classes for the elderly," Ulson said. "I came to UnB to learn about the methodology and see if we can do something similar, although less ambitious," said the secretary, who attended the presentation of UniSer students in the Rectory Auditorium.
The main aspect of the UniSer program is the Social Political Educator course in Gerontology, which enables adults and the elderly to become active subjects in the construction of policies for aging. Over the course of a year and a half, students take classes on subjects such as Self Care, Quality of Life, Law and Citizenship, and Politics and Education. Currently, there are eight classes of the course in progress.
"We are pioneers in promoting education programs in the area of aging, mainly due to the way we carry out the activities, with a structured pedagogical project executed by professionals with training in several areas," said UnB Ceilândia Faculty Professor Margô Karnikowski, UniSer's Coordinator.
She and the secretary should reconvene to discuss possible partnerships. According to Ulson, the secretariat, linked to the Ministry of Human Rights, is expected to launch a pilot project, initially covering about 30 municipalities. "We need to act urgently to improve the quality of life of the elderly," he said.
ATTENTION – The information, photos and texts may be used and reproduced, in whole or in part, provided the source is duly cited and there is no change of meaning in its contents. Credit for texts: name of reporter / Secom UnB or Secom UnB. Credit for photos: photographer's name / Secom UnB.