Graduate Studies
The University of Brasilia (UnB) was inaugurated in 1962 with the mission to reinvent higher education by integrating various forms of knowledge and developing professionals engaged in transforming the world. Situated on Brazil's Central Plateau, the institution is home to 1,900 highly qualified researchers who are focused on producing state-of-the-art science, technology and culture.

The graduate school at UnB is one of the primary spaces for opportunities and experiences related to developing global competencies, both for students and professors. With its culturally diverse, cosmopolitan community, the university stands out for its development of large scale research projects.

Almost 8,000 graduate students are a part of 86 master's degrees and 68 doctoral programs, which are solely dedicated to developing research. Most of the programs have received the highest level of qualification from Brazil's government agency responsible for evaluating the quality of graduate education (Coordination for the Development of Higher Education - CAPES).

Master's degree and doctoral students at the University of Brasilia have access to an extensive archive of texts through the institution's library system. There are more than 430,000 titles available, as well as 17 research databases. The university also has more than 290 laboratories.
At the undergraduate level, students are introduced to scientific initiation in three major areas: Exact Sciences and Technology, Arts and Humanities, and Health and Life. The research encourages better classroom performance, creates links with professors, opens exchange opportunities and prepares the student for graduate education.
PROJECT OF INTERNATIONALIZATION – PrINT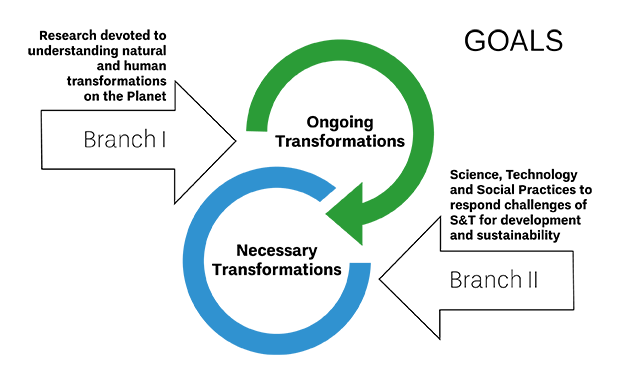 Goals – To promote the ongoing development of high-level researchers and professionals working in the development of science, technology, and/or innovation to address the complex contemporary issues emerging in local and global contexts. In line with the UnB Internationalization Plan, this project proposes a range of multi- and interdisciplinary research to be done in international partnerships and by high-level research groups at UnB, reinforcing the university's vocation and promoting integration between different areas of knowledge and local and global actors in the field of science. One overarching research question to be addressed in this project is the rapid transformation of Planet Earth in different dimensions – geological, ecological, socio-cultural, political, and economic. Some of these transformations trigger crises (e.g., environmental disasters, epidemics, deepening inequality, starvation, intolerance) and call for the formulation of innovative (theoretical and practical) solutions, which should consider the challenges of development and sustainability for life on Earth today and in the future. Six priority themes have been selected to address this overarching issue, organized in two main areas:
Branch I – Transformations underway, focusing on research devoted to understanding natural and human transformations on the planet, covering three priority themes: 1. Natural and Human Dynamics Affecting the Planet; 2. Inequality, Globalization, and their Effects on Contemporary Society; 3. Life and Health in a Changing World;
Branch II – Necessary transformations, based on science, technology, and social practices, to respond to the challenges of development and sustainability, encompassing the other three priority themes: 4. S&T for Development and Sustainability; 5. Diversity, Social Practices, and Affirmation of Rights; and 6. Contemporary Urban Issues: social dynamics, development, and innovation.
Join us at UnB
The main ways through which international students can become part of this environment of academic excellence are:
Graduate Student Program by Agreement (PEC-PG): Scholarships for citizens of economically developing countries with which Brazil has cooperation agreements;
Special Acceptance for Foreign Graduate Students: Exclusive openings in UnB graduate programs for foreign applicants residing abroad. The number of spots can be verified with individual programs;
Joint Supervision: Joint research project advising, in which the student has an advisor at UnB and another at the institution of origin. At the end of the degree, they receive a diploma from both universities;

Partnerships Program for Education and Training (PAEC): between the Organization of American States (OAS) and the Coimbra Group of Brazilian Universities (GCUB), with the support of the Brazilian Ministry of Foreign Affairs' Division of Educational Topics and the Pan American Health Organization (PAHO/WHO)

.
NEWS